The modern workplace is changing.
The main reason for this is twofold: a new generation of people entering the workforce and the rapid evolution of technology.
According to a study conducted in 2018, Millennials have surpassed the GenX to become the largest share of the workforce. Think about that for a minute.
Majority of the people working right now are in their 20s and early 30s. This group of people grew up with technology at the palm of their hands. Millennials are digitally native or tech-savvy. What that means is they are familiar with technology and what it can do for their lives and their work.
Driven by changing work styles, mobile technology, and the growing presence of Millennials, workplaces are rapidly evolving as well.
Below are three key concepts you need to understand about the modern workplace if you don't want your business to get left behind.
3 Building Blocks of an Ideal Modern Workplace
1. Foster collaboration
The work you do today is vastly different from the work you did 10 years ago. We've said this over and over, and it bears repeating because it's so important that SMBs understand this.
Today's work involves more collaboration with people — both internal and external the organisation.
Because of that, the modern workspace must evolve too.
The main focus of tomorrow's workplace is hitting towards intense and often spontaneous interaction. In other words, more space is allocated for communal or shared space as opposed to individual workstations.
From a technological perspective, teams must be able to easily interact across departments, around the world, to respond to customer needs in real-time.
One app or tool you should have in your organisation is a communication and collaboration software.
2. Enable productivity
To stay productive at all times, business users are increasingly demanding 24×7 access to enterprise data form a wide range of personal mobile devices.
The easiest and most cost-effective way to do this is through the use of cloud-based services instead of on-premise hardware that control who has access to what data.
It's already 2020. The modern workplace is no longer limited by a location. The concept of work has become "something you need to do" as opposed to "a place you go to."
Being on-the-go, remote work, telecommute — these are all terms describing the use of technology and how businesses are taking advantage of it to do work while addressing the needs of the evolving workforce: the need to do work anytime, anywhere, without being limited to an office.
If you're looking to implement a collaboration software for your business, here are 7 criteria you need to consider.
3. Drive agile workspaces
You already know that smartphones, tablets, and Internet of Things (IoT) devices are already transforming the way your employees communicate, consumer services, and manage their personal lives.
Because of this, the very nature of modern work environments is evolving. People are no longer stuck in meeting rooms; instead, people work on collaborative open spaces or in cafes.
In order to create a true agile, modern workplace, it's important for workplace design and technology to align and proceed in unison.
Don't know where to start? Be inspired by how companies across the world are designing their workspaces to foster collaboration and productivity.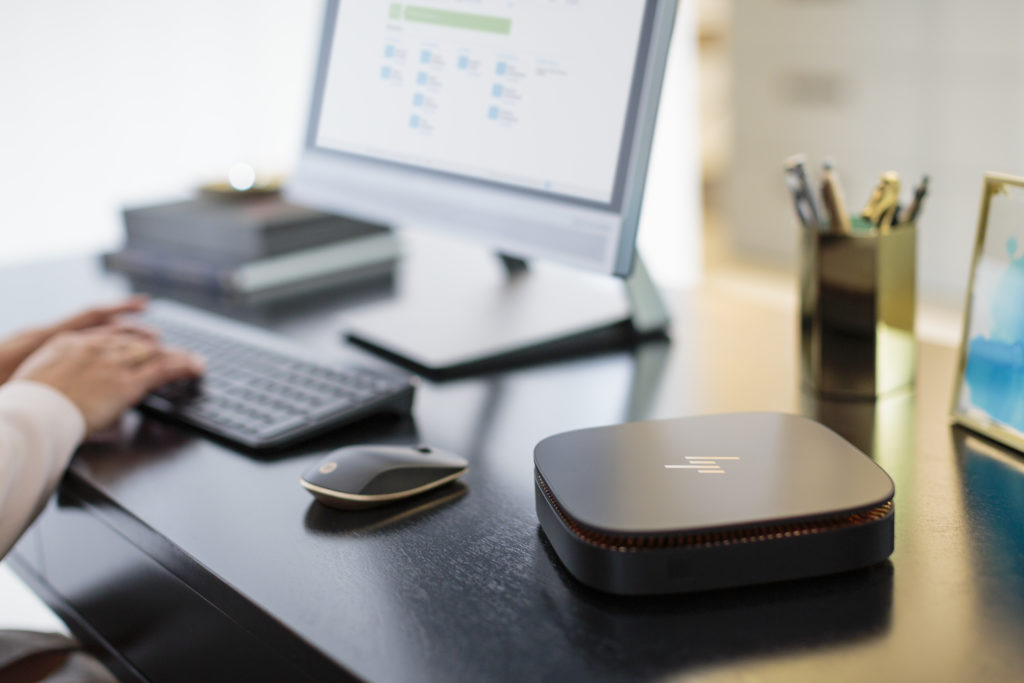 Enable Your Workforce with the HP Elite Slice
The HP Elite Slice is a great place to start to enable your workforce.
They are purpose-built to help the modern workforce to be ultra-productive—and collaborate freely.
The modern workforce is changing.
You need to adapt so you don't get left behind.
Learn more about the modern workplace and the new role of desktop PCs in empowering tomorrow's workforce by downloading this free PDF.