While technology plays a big part in helping to defend businesses against cyber-attacks, the easiest target for cyber-criminals is often people.
Noticed a lot more spam/phishing emails recently? I certainly have. The media claims there is also. AI algorithms can now be trained to create spam email that resembles a legitimate message. Awesome…not!

First things first, it's critical that we pay attention to this. Being in the industry we hear of far too many businesses out there getting hit with ransomware, having data stolen, and having business disruption that they don't need or deserve.

There'a a number of things we can do about this. We break this down into 3 main areas; the Technology, People and Processes. These are also called the 3 Pillars of Cyber Security.

3 Main Cyber Security Areas to Focus On:
1. Firewalls & Network Security Tools
This is an ever-moving target. The tools we implemented for yesterdays problems aren't going to help us with tomorrows problems.
2. People
Are we providing our people with Cyber or awareness training? It's easy for Technology always get the focus, without the People side being addressed.
3. Processes
Keeping Cyber on the agenda is critical. We've developed and brought together tools, frameworks, and assessments to help businesses identify gaps and plan for the future.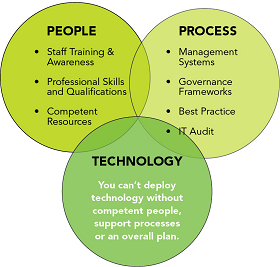 We have partnered with Kordia to deliver fantastic cyber security training, called CyberWise.
CyberWise
Aura Information Security, a division of Kordia, has been running staff cyber security training sessions for many years. Usually this involves training smaller groups of people in a workshop-based format.
These work well but there was an opportunity to develop an e-learning platform that allowed customers to train larger groups of people, regardless of their geographic location; and also enabled staff to do the training at a time that suited them.
CyberWise is aimed at helping everyone in a business become more cyber-aware – from the guys working in the field, through to front-of-house staff and the finance team.
Learn more about CyberWise here, and register for your free trial of the software.