With technology constantly evolving, most businesses do not have time to manage all of their IT systems, keep pace with software updates and fix technical problems as they arise. The solution? To outsource all of their IT needs to an external provider. This allows business owners to concentrate on what they do best, while trusting a team of IT experts to work their magic in the background.
That said, partnering with an IT provider does require a certain element of trust. As technology runs through nearly every area of your business, an IT company will likely be privy to the innermost workings of your organisation. This is why it's essential to team up with a provider who you can trust to provide a professional and reliable service.
Below are five key things to look for in a great IT partner, to help you make this important decision.
5 Key Things to Look for in a Great IT Partner
1. Expertise
The level of expertise you require in an IT partner will depend on factors such as the size of your business, the current state of your IT systems and your plans for future expansion. Ideally, you want to work with a provider who can act as a 'one-stop-shop' for all of your IT needs. The last thing you want is to have to go between two or three different providers to ensure all of your IT requirements are met. Therefore, look for providers who have a proven track record and offer a wide range of services.
Read more: Does your IT company speak a language you can understand?
2. Proactivity
The best IT partners are those who are proactive and solutions-focused. You're engaging an IT partner because you need assistance and direction, so you want them to make suggestions for improvement and guide you on how to make the most of technology. This will give you peace of mind that you're up-to-date with the latest tools and trends.
3. Transparency
In order for a partnership to be successful, there needs to be mutual trust and transparency. Look for IT companies that are willing to be open about their pricing, processes and abilities from the get-go. Where possible, put your expectations in writing, in the form of setting KPIs at the beginning of your agreement.
4. Customer service and communication
It's important that you get along well with your IT partner as you'll likely be speaking to them on a regular basis (we all know how often computers, printers and other devices tend to malfunction). Look for an IT partner who offers friendly, helpful customer service. You want to feel comfortable asking questions and reaching out for help.
5. Good understanding of your business goals
Every business is unique and has different IT needs. A good IT provider will be able to adjust their offerings to suit your company's structure and goals. They will also be able to adapt as you grow and expand, or at least point you in the right direction if they cannot help you themselves. The best partner will make you feel like you're their only client, even if they have several. It's this personal, proactive support that makes outsourcing your IT needs well worth the cost.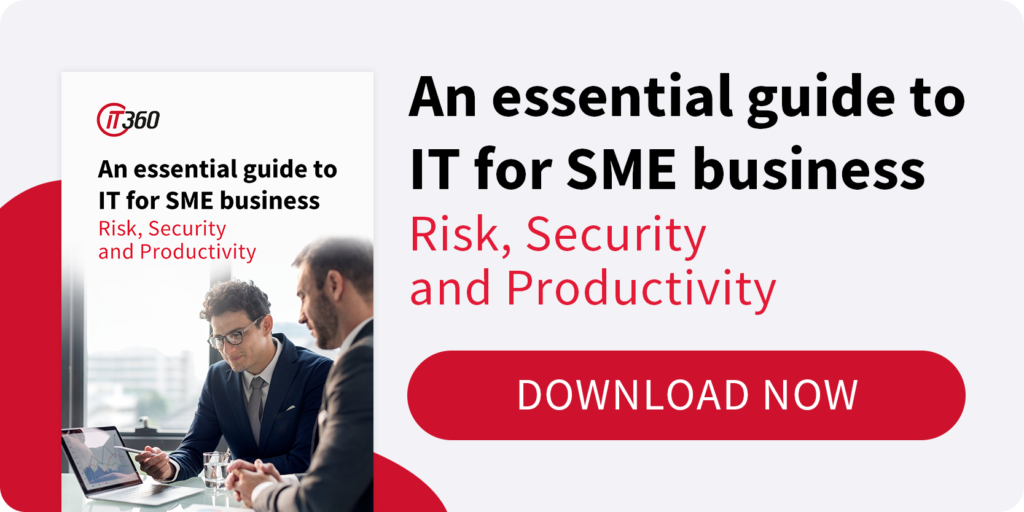 Keen on further knowledge on how to manage IT in your business? Download: An essential guide to IT for SME business – Risk, Security and Productivity